Patent (International patents only)
1. Hitoshi Furusho, Keitaro Yoshimoto, Ryo Maruyama,
"Cell scaffold material using e-cadherin-binding nucleic acid aptamer"
(E-カドヘリン結合型核酸アプタマーを用いる細胞足場材料)
App/Pub Number: WO2018038076A1
※This patent contains E-cadherin-binding DNA aptamer (EBA) and cell culturing scaffold immobilized EBAs.
2. Keitaro Yoshimoto, Koji Wakui, Hitoshi Furusho,
"Method for screening nucleic acid aptamer"
(核酸アプタマーをスクリーニングするための方法)"
App/Pub Number: WO2017126646A1
※This patent contains MACE-SELEX procedure and anticoagulant aptamers that bind to human thrombin.
3. Keitaro Yoshimoto, Keiko Kimura, Hitoshi Furusho,
"Nucleic acid aptamer capable of bonding to vascular endothelial growth factor receptor"
(血管内皮増殖因子受容体に結合する核酸アプタマー)
App/Pub Number: WO2016158851A1, EP3279325A1, TW201706411
Press
18 Oct. 2018
日本経済新聞
"合成DNA薬、治療効果20倍 – 埼玉大・東大、最適な形に設計"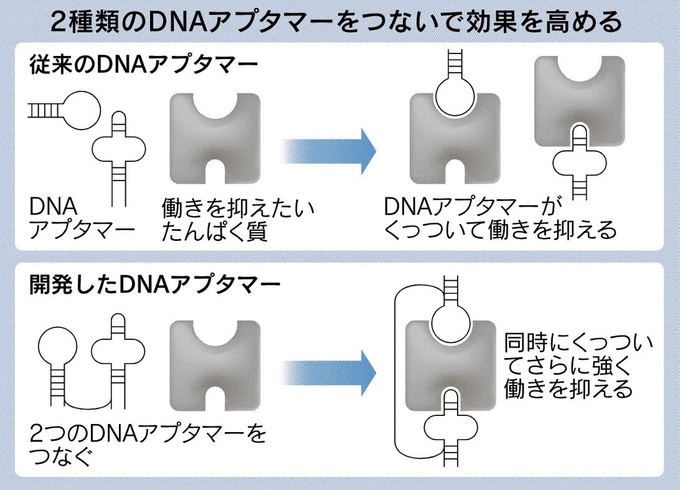 28th Jan., 2018
研究成果展開事業 大学発新産業創出プログラム (START) / 社会還元加速プログラム SCORE
"Smart Selection and design of multivalent aptamer as new medium molecule drug (中和可能な新しい中分子薬剤"多点結合型DNAアプタマー "の合理的設計法)"